home

products

resource tuner

tutorials
How to Change Resource Language ID
Resource Tuner lets you change the language ID of the GUI elements.
The language ID is represented by a word integer value that consists of a primary language and its corresponding sublanguage, which are defined by the Windows operating system. If a resource item is designated as "language neutral", the language ID value is set to zero. This feature allows you to tailor the language settings of the GUI elements to suit your specific needs and requirements.
Change Language ID
1. Select the resource item and click on the 'Change Language...' button from the button bar as illustrated below.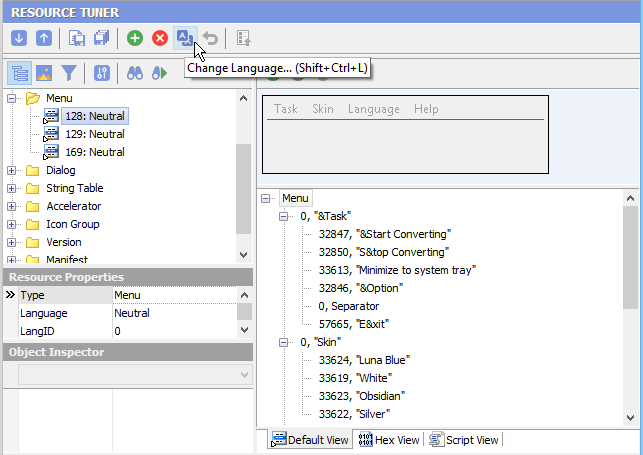 2. Select the desired language in the list and choose how to apply it.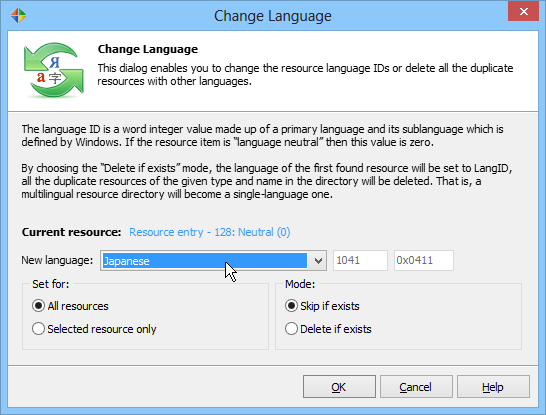 When using the Delete if exists mode, the language of the first occurrence of a resource will be set to the chosen LangID. Additionally, any duplicate resources with the same type and name in the directory will be deleted. Consequently, the previously multilingual resource directory will be transformed into a single-language one, containing resources solely in the selected language.
3. Click OK and select 'File'

'Save File' to save the altered file to disk.
Start Tuning Your Applications Now!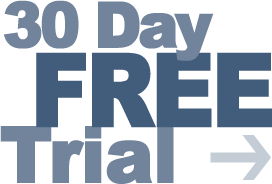 Give Resource Tuner a trial run for 30 days free! Once you try it, we think you will find it hard to go back to other resource hacking utilities. For maximum editing and inspecting power, purchase a Personal license now for $49.95. The Business license is available for $89.95.