Version Information Resource Editor
Resource Tuner lets you visually edit, update or delete the Version Information: version numbers, vendor information (copyrights, trademarks, origins), product name and original file name. This information is displayed on the version tab of the property sheet dialog displayed by selecting the "properties" item from the right mouse button context menu in Windows Explorer.
With the Version Information Editor, you can maintain this data, which is stored in the version information resource, and make the changes directly in the Version Information table.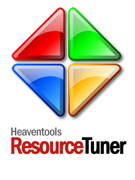 In fact, it allows you to add your own custom branding to an application, change dialog messages, customize toolbar actions, and so on without having access to the actual source code. Resource Tuner offers exciting possibilities even if you aren't a programmer. It's perfect for translators, tweakers, and anyone else who wants a different look and feel for an application.
Resource Tuner offers a thorough look at all of the resources (bitmaps, jpeg, icons, strings, dialogs, PNG, large 256px PNG-compressed Vista icons, XML, Image Lists, Type Library, etc) in the compiled 32/64-bit executable files (EXE, DLL, DLL.MUN), and allows you to make modifications without needing to recompile the source code.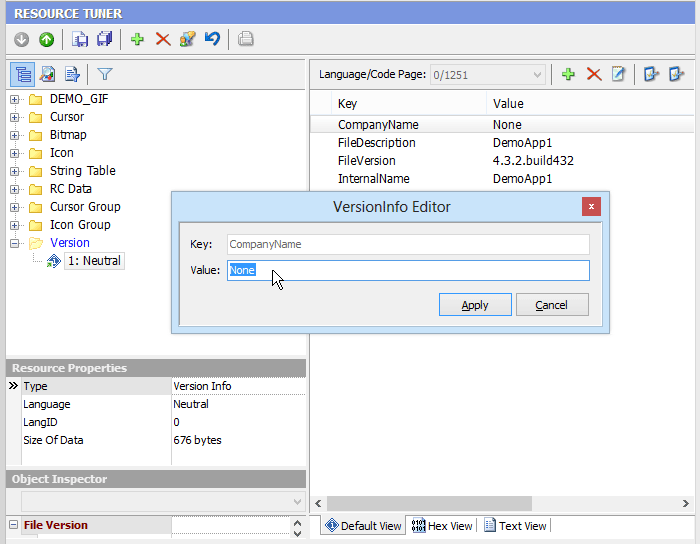 More Screenshots

Tutorial: How to Edit or Delete the Version Information
See also

Command-line Resource Editor: If you need to to create a repeatable process for updating and customizing the Version Information during the final stage of the build process.
Get Started with a 30-Day Free Trial
Download Resource Tuner and start exploring your applications now.


Resource Tuner runs on all versions of Windows from 11 to XP, both 32-bit and 64-bit.
More Options For Power Users
Resource Tuner is the PE Explorer spin-off product that is used solely to edit resources in Windows programs. PE Explorer is the choice for anyone looking for more. Includes the Resource Editor, Section Editor, Disassembler, Dependency Scanner and the Export/Import Viewer.