FlexHex Editor: The Hex Editor For Professional Use.
FlexHEX is an awesome hex editor program specially designed to help you securely inspect and edit binary files, OLE compound files, logical devices, and physical drives. This is a well designed, rock solid piece of software, with tons of features and an excellent, easy to use interface.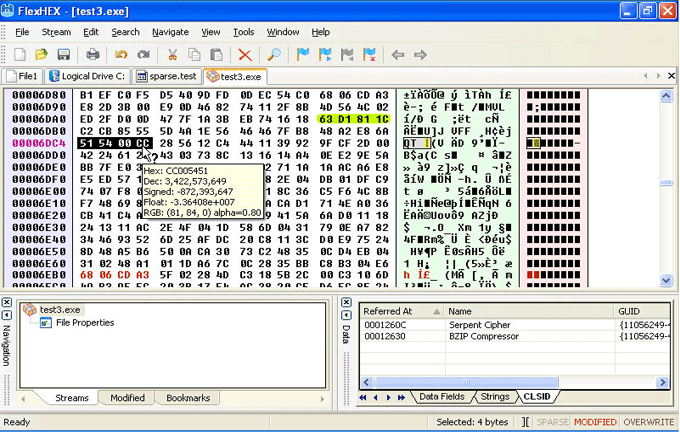 Have been looking a long time for a decent hexadecimal editor? Whatever your editing needs are, you will find that the FlexHex Editor continues to meet them. Made by and for software professionals, FlexHex combines advanced binary editing tools with the ease and flexibility. This feature-rich hex and disk editor will save many hours of manual effort every month and easily pay for itself in the first month alone.
Buying Choices:

FlexHex
Business License

$59.95

There are several good hex editors out there, but the one I use is FlexHex from Heaventools. While there are many free hex editors I feel that you often get what you pay for, which is why I use a commercial one.

Don Parker,
Bridon Security
Use FlexHex for inspecting binary output, editing the raw data contents of a file or a disk, examining the structure of proprietary closed-format data files or old data in unknown formats, quick fixing problems with executable files or flash drives, creating binary files for test runs, copying and pasting a gigabyte large chunk of data, and more. These, and hundreds of similar tasks such as low-level disk imaging and cloning, makes this hex editor/viewer a must-have tool for anyone who needs a hex editor.
Features
Supports drives and files of unlimited size (up to the NTFS theoretical limit)
Edits contents of any file, memory area, logical disks and physical drives
Support for 64-bit operating systems
Support for multi-byte and Unicode character sets
Unlimited multilevel Undo and Redo: you are never at risk of losing your data
Support for OLE compound files, NTFS alternate streams, sparse files, and more!
Real-time tracking of the changes made to the file by another application
Fully customizable layout and colors
File / Selected area printing
more
With FlexHex You Can
View and edit the hidden data the other hex editors won't even show you
Open, save, paste, or drag-and-drop hundreds gigabytes of data within a second
Edit files locked by the system or by another application
Import or export your binary data, or just drag-and-drop data to/from another applications
Save data in the compressed Zipped Image format
Validate and analyze data with Search, Replace, and Comparison tools
Keep track of your position with bookmarks, area lists, jump history, and other handy tools
Compute checksums (CRC-32, MD5, SHA-1, SHA-256) and browse COM classes



Check Out The Feature List

Have A Look At ScreenShots

Getting Started with FlexHex

Frequently Asked Questions
We Offer A Free Trial Version: Try The Software, Risk Free.
FlexHex runs on Windows 2000/XP/2003/Vista/7/8/10
Minimum hardware requirements:
Intel Pentium® or AMD K5 processor with 166 MHz
16 MB RAM
This software has no disabled features. Try out the full functionality of this hex editor with many advanced functions.
Why is FlexHex Better Than the Other Hex Editors Out There?
FlexHex provides an intuitive framework for editing operations covering all needs of a software developer. This powerful yet simple to understand program helps you create, modify, inspect, search and replace binary, ASCII, or Unicode data. Power users will appreciate being able to search for strings and GUIDs, compute checksums and browse COM classes.
FlexHex enables you to copy and paste a gigabyte large chunk of data in a split of a second. This is significantly faster than the competing hex editors.
Like any other hex and hdd disk editor, FlexHex lets you view, create and edit binary files on local disks, devices or network shares. Unlike other hex editors, FlexHEX provides full support for NTFS files which are based on a more complex model than FAT32 files. Specifically, FlexHEX supports sparse files and Alternate Data Streams of files on any NTFS volume. Now you can audit your files for the presence of Alternate Data Streams, and edit the hidden data which the other hex editors simply cannot see!
The special Hot Tracking feature lets you see the changes made to the file by another application. With FlexHEX you don't need to reload the same file over and over again - it detects any change made to the file and instantly updates the Edit window. This feature gets enabled automatically for any file opened in the read-only mode.
Start Editing Your Files Now!
FlexHex will run for 30 days but after that time you will need to buy a license. For maximum editing and inspecting power, purchase a FlexHex Business license now for $59.95.