Visual Resource Editor
Resource Tuner is a powerful software tool designed to help users customize their Windows executables. Resource Tuner lets you view, extract, add, replace, edit, and delete the embedded resources within executable files: icons, strings, images, sounds, dialogs, menus — all that make up the visual part of your Windows programs.
Additionally, it allows you to change the properties of executable files, including their version information and manifest files, collect and edit any file information while doing research. The application also includes a search feature to quickly locate specific resources within a large number of executable files on your computer without the need for manual browsing through numerous files.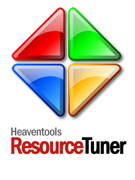 In fact, it empowers you to add your own custom branding to an application, change dialog messages, customize toolbar actions, and so on without having access to the original source code. Resource Tuner offers exciting possibilities even if you aren't a programmer. It's a perfect fit for translators, software localization experts, tweakers, resource enthusiasts, and anyone else who wants a different look and feel for an application.
Resource Tuner is about the only tool you would probably trust to modify resources in a PE executable. Discover the unique features of this Resource Editor, including how to open problem executable files and edit the hidden data which the other editors simply cannot see. Benefit from a wide range of supported resource types, take advantage of the integrated UPX unpacker, and more. You will learn the industry standard program for translating and customizing the user interface.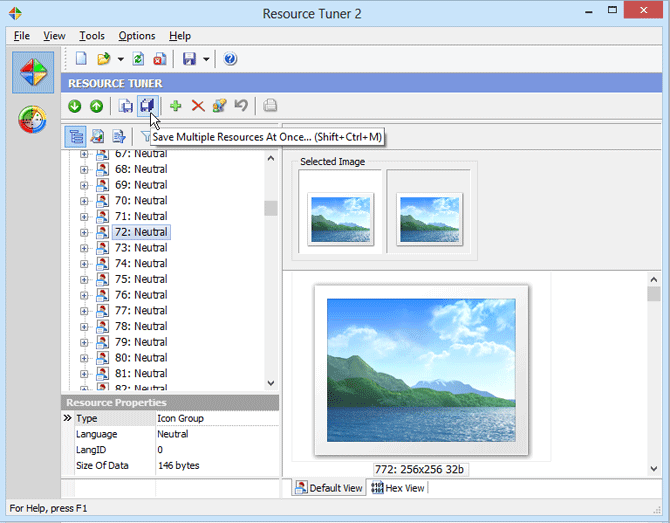 Resource Tuner is packed with features which make it an essential tool for anyone tweaking another programs. Have fun personalizing any application to your own unique taste. With the powerful Resource Tuner, you no longer need to suffer with ugly default icons and pictures. The usage is very simple, just run the program and then select the EXE, DLL, or MUN file to read the data from. Once you try it, we think you will find it hard to go back to other resource hacking utilities.
Buy Now And Unlock Additional Features

Resource Tuner
Personal Use License

$49.95


Resource Tuner
Business Use License

$89.95
With Resource Tuner, You Can
Utilize a rapid Resource Viewer to browse resources of all types
Rebrand your applications by replacing icons and logos
Customize GUI elements of your favorite Windows programs
Translate third-party applications
Scan your computer's directories and drives for hidden resources
Extract images, icons, sounds, and animations
Make legacy applications use the new look of Windows
Tell Windows to run your application with administrative privileges
Seamlessly open UPX-compressed files in the Resource Editor without long workarounds

Feature List

Screenshots

What People Say About Resource Tuner


Step-by-Step Guide Showing You How to Open And Edit EXE And DLL Files
We Offer A Free Trial: Try The Software, Risk Free.


Resource Tuner runs on all versions of Windows from 11 to XP, both 32-bit and 64-bit.
Customize Your Favorite Windows Programs
Longing to have a personal touch on your favorite application? No matter where it runs — whether on your PC or XBox, it is still a Windows program. What better way than with Resource Tuner, a resource editing solution you can use now. Quick and easy access to all the resources which are normally inaccessible really allows you completely customize any program you own.
Disappointed by older applications using the outdated "chiseled 3D" look, rather than the new Vista look? Resource Tuner's Manifest Wizard provides a quick fix. Bring your pre-XP legacy programs back to the future, blessing it instantly with the new look.
Resource Tuner makes it straightforward to translate any application, even if you do not have the source code for it, even if its original developers are long gone. Simply replace all text resources with their translated versions, and resize forms and buttons to fit the translated text as needed. No programming skills required!
More Options For Power Users
Resource Tuner is the PE Explorer spin-off product that is used solely to edit resources in Windows programs. PE Explorer is the choice for anyone looking for more. Includes the Resource Editor, Section Editor, Disassembler, Dependency Scanner and the Export/Import Viewer.