Resource Tuner License Keygen and Cracks
Dear Potential Customer,
If you like Resource Tuner enough to go searching for a crack or serial number for it then why not just buy it? It's a lot less hassle and you won't risk infecting your computer with viruses, spyware and other malware commonly disguised as software cracks and keygens on torrent and warez websites. At only $39.95 is it worth the risk? Buying the software also entitles you to upgrades and technical support.
If you like Resource Tuner and find it useful, then please pay us for our hard work. Please keep in mind that the only thing that allows us to continue to improve on it is the support of the decent people who pay for the Resource Tuner software they enjoy using. You can download and try it for free to see if you think it is worth the investment.
We don't really believe in rewarding software piracy, but since you might need a little extra incentive to go fully legit, you can even get a free Resource Tuner Full Version legitimately by signing up for a trial with TrialPay.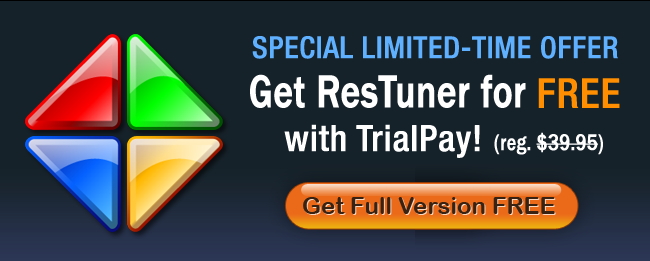 Thanks to TrialPay, you can get a FREE fully-registered Personal (Home) License for Resource Tuner. Just click the button, or click HERE to get started with your TrialPay order.
Let THEM pay for your Resource Tuner
We are using TrialPay to partner with dozens of great companies who are looking for new customers. If you sign up with one of our partners, they will buy Resource Tuner for you! This involves completing an offer, such as signing up for a new credit card, purchasing a Holiday gift or music online, subscribing to BlockBuster, Tivo, etc. You can even switch your car insurance to Geico! They pay us for getting YOU as a new customer, and you get Resource Tuner Personal (Home) License for free.
We Offer A Free Trial: Try The Software, Risk Free.

Resource Tuner runs on all versions of Windows from 95 through Server 2008, Vista, 7 and 8.
Minimum hardware requirements:
Intel Pentium® or AMD K5 processor with 166 MHz
16 MB RAM